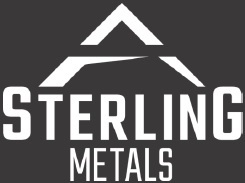 Sterling Metals Corp.
Company Data | Introduction | Projects in Hand | Management
News Update | Chinese
| | |
| --- | --- |
| Traded Market: | TSX-V | OTCQB |
| Traded Symbol: | SAG | SAGGF |
| Outstanding Shares: | ~69.76 Million |
| 52 Week High: | $ 0.40 |
| 52 Week Low: | $ 0.10 |
| Present Price: | Click Here |
Sterling Metals Corp. is a mineral exploration company focused on Canadian exploration opportunities. The Company is currently advancing its 100-per-cent-owned Sail Pond Project located in the Great Northern peninsula of Newfoundland and recently acquired the Adeline Project in Labrador.
The 29,700-hectare Adeline project is a mid-stage exploration project covering an entire sediment-hosted copper belt, with demonstrated potential for important new copper discoveries with significant silver credits.
The 13,500-hectare Sail Pond project is a brand new discovery, first discovered in 2016 with no drilling prior, and consists of high-grade silver, copper, lead and zinc associated with quartz-carbonate veining, brecciated dolostone and 100-per-cent sulphosalt veining.
Both projects are easily accessible by road with nearby services and a 30-minute flight from each another.
Sail Pond Ag-Cu-Pb-Zn Project, Newfoundland
Project Summary
High-grade, silver, copper, lead and zinc associated with quartz-carbonate and 100% sulfosalt veining
Discovered in 2016, no prior drilling and ~$8,000,000 spent to date
12 km linear soil anomaly with grades in soil of up to 657 g/t silver and 0.68% copper
Rock sample analysis from trenching of up to 4,526 g/t silver, 14.9% copper, 7.5% lead, 9.6% zinc and 0.9 g/t gold
Two defined target zones – combined strike-length of 9 km open in all directions
Large geophysical anomalies run directly beneath trend lines
Large project area (13,500 hectare), road accessible and with nearby services and airport
Sterling Metals has the option to earn 100% of this project.
Significant High-Grade Drill Results
4,413.58 g/t AgEq over 0.34 m (1,572 g/t Ag, 5.84% Cu, 29.2% Zn, 0.55 g/t Au, 7.8% Pb and 2.47% Sb)
3,499.1 g/t AgEq over 0.35 m (1,564 g/t Ag, 8.33% Cu, 12.83% Pb, 2.74% Sb and 3.93% Zn)
1,914 g/t AgEq over 0.28 m (848 g/t Ag, 3.24% Cu, 4.27% Pb, 1.02% Sb and 9.62% Zn)
1,485.3 g/t AgEq over 0.63 m (520 g/t Ag, 1.81% Cu, 6.93% Pb, 0.57% Sb and 10.86% Zn)
Sail Pond: Heimdall Zone
2022 Drilling Shows Potential for Growth
2023 Drill Program
Drill for the feeder of the narrow high grade veins as will hopefully be indicated by the Orion 3D survey
Highlights of the Program
Expanded mineralization down-trend
Expand on new high-grade sulfosalt intercepts
Adeline Copper-Silver Project, Labrador
Comprising roughly 30,000 hectares and a 44-kilometre strike of copper-silver-rich terrain, the Adeline project is located in Labrador, Canada, close to road, rail and power infrastructure and within 500 kilometres of the Sail Pond project, allowing for strong economies of scale for exploration.
Possessing a robust early-stage exploration database, including regional airborne magnetics, ground induced polarization (IP), extensive geological mapping and over 250 surface samples assaying as high as 26.9% copper, Adeline exhibits strong geological comparisons with preferred epigenetic sediment-hosted copper deposits such as Udokan (estimated reserves of 1.2 billion tonnes at 2% copper). In addition to the land package, the Project has a pipeline of exploration targets at different stages of development, including two drill-ready targets at two key prospects, one of which has returned an encouraging intercept of 1.76% copper and 58.2 g/t silver over 7.9 metres on the edge of a large chargeability anomaly (2011; Playfair hole SL-11-10).
Proposed Work Program:
2,500-Metre Drill Program – Adeline: $2M
Adeline Airborne Survey: $500K
2,500-Metre Drill Program – Sail Pond: $750K
Technical Services: $1M
Top Ranked Mining Jurisdiction
Strong Economies of Scale for Exploration
Adeline Copper-Silver Project
29,700 ha, located within the Central Mineral Belt (CMB) in Labrador
145 km northwest of Happy Valley-Goose Bay, Labrador
Access road within 70 km of the project (10min helicopter flight)
Supported by network of roads, rail, deep water ports, airports, service centers, hydro-power, and a skilled workforce.
Sail Pond Ag-Cu-Pb-Zn Project
13,500 ha, located in the Great Northern Peninsula of Newfoundland
Existing infrastructure: power, water, road access within 32 km of the St. Anthony regional airport
Newfoundland
Ranks 8th in the Fraser Institute's Global Rankings for Mining Investment Attractiveness (2020)
Politically stable region with a transparent permitting, established mining and taxation laws
Mining-knowledgeable First Nations Indigenous Groups
World-class mining operations in Labrador include Vale's Voisey's Bay (Ni-Cu-Co mine) & Rio Tinto's Carol Lake (Fe Mine)
Management, Directors, and Advisors
Mathew Wilson, MFin, CFA, Chief Executive Officer and Director
Mr. Wilson has spent the last fifteen years as an active venture investor and executive. Over the last 7 years he has led drill campaigns and mine restarts on two continents and raised nearly $30M. He is also currently the Chief Investment Officer of EarthLabs, a venture investment fund focused on the junior resource space. Prior to this, he was a Principal at Pinetree Capital and has acted as CEO for private venture capital companies and as a director for public TSX venture listed companies.
Dennis Logan, CPA, CA, Chief Financial Officer
Mr. Logan has over 25 years of financial advisory and senior financial management and accounting experience, having spent 17 years in Investment Banking prior to transitioning into Public Company CFO roles.
Jeremy Niemi, P.Geo., SVP Exploration and Evaluation
Mr. Niemi is a geologist with 25 years of experience in the resource industry, both at corporate and operational levels. He is currently the Vice President, Exploration at Aurelius Minerals and a technical advisor at Maritime Resources. He was previously the Vice President, Exploration for GoldQuest Corporation. During his tenure at GoldQuest, he led the advancement of the Romero gold project from an initial inferred resource through to a Pre-Feasibility Study.
Chris Irwin, Corporate Secretary
Mr. Irwin practices securities and corporate/commercial law and has been the President of Irwin Professional Corporation since August, 2006.
Richard Patricio, Chairman
Mr. Patricio is the CEO and President of Mega Uranium Ltd. He is a qualified lawyer (Ontario) with over 15 years of experience working with and for public companies.
Stephen Keith, Director
Mr. Keith has over 20 years of experience working with mining and energy projects from concept to feasibility study, engineering design, project management and construction through financing and acquisitions.
Mark Raguz, Advisor
Dr. Neil O'Brien, Technical Advisor (key person – senior advisor and head of Adeline geology)
Dr. O'Brien is a consulting economic geologist and former mining executive with three decades of industry service including Board of Director roles in public and private mineral exploration companies. Dr. O'Brien has international experience on five continents in all stages of mineral exploration and development of economic mineral resource projects, mining project evaluation and strategic corporate development activities. He retired in 2018 from Lundin Mining Corporation as Senior Vice President, Exploration and New Business Development. Dr. O'Brien also provides consulting services and is non-executive director of other public companies.
Dr. Stephen Piercey, Technical Advisor
On July 13, 2023, Sterling Metals Corp. has commenced exploration activities at the Adeline copper project in Labrador, Canada. Located within the central mineral belt of Labrador, this wholly owned 44-kilometre-long sedimentary basin hosts over 250 surface copper-silver occurrences and has many similarities to other world-class, shale-hosted copper sulphide deposits. Sterling has compiled and layered 60 years of exploration data, including extensive showings, induced polarization (IP), magnetic survey, surface trenching and structural geology, to develop a number of priority targets that are expected to be drill tested later this summer. Highlights:
Permits received for drilling and camp with construction and field activities commencing immediately;

Drill pads set up at the Ellis Main prospect, where recent trenching was completed, and initial drilling is expected to commence;

The Ellis Main prospect is exposed in a series of 11 trenches along the western end of Seal Lake and was the subject of historic work, including grab samples and drilling;

The strongest historical mineralization occurred in hole SL-11-10 from 90.6 metres where 7.9 m at 1.76 per cent Cu and 56.2 grams per tonne Ag was intercepted 50 m down dip from a surface trench of 4.5 m of 2.5 per cent Cu, 94.3 g/t Ag;

IP data collected by Noranda in the early 1990s show a large anomaly whereby SL-11-10 intercepted the edge of it. Drill pad preparation is beginning to test this anomaly as well as the others across the basin;

Completed hyperspectral study with ALS Goldspot Discoveries Ltd., confirming Ellis as the primary target, providing support for numerous secondary targets and new priority areas of interest;

Drilling contract with a minimum of 2,000 metres of diamond drilling with Logan Drilling Group International, which Sterling has worked with in the past.
On June 06, 2023, Sterling Metals Corp. has commenced its 2023 drilling program at the Sail Pond project located in the Great Northern Peninsula of Newfoundland. The drill program will test for potential large accumulations of high-grade silver and copper mineralization in six new anomalies identified in the recently completed Orion 3-D geophysical survey, including a potential source to the Heimdall North zone discovered in 2022.
"Since the discovery at Heimdall North our team has looked forward to getting back to the area to find the source of the incredible high-grade mineralization we intersected. Completing the Orion survey and highlighting a new geophysical target just below our discovery hole SP-22-064 only fuelled our desire to return to the Heimdall North zone," stated Jeremy Niemi, senior vice-president, exploration and evaluation. "The mineralization in hole 64 was essentially solid vein of high-grade copper and silver mineralization interpreted to come from a nearby larger source. This is an amazing target to kick off our 2023 campaign and we can't wait to see the core."
May 8, 2023, Sterling Metals Announces Results of 2022 Regional Drilling and Orion 3D Geophysical Survey at Sail Pond. Sterling drills 0.25 m of 496 g/t AgEq at Sail Pond
https://sterlingmetals.ca/may-8-2023/
April 17, 2023, Sterling Metals Announces Closing of Upsized Brokered Private Placement Financing
https://sterlingmetals.ca/april-17-2023/
April 4, 2023, Sterling Metals Announces Upsize to Brokered Private Placement
https://sterlingmetals.ca/april-4-2023/
March 29, 2023, Sterling Metals Announces $5M Brokered Private Placement Financing
https://sterlingmetals.ca/march-29-2023/
March 22, 2023, Sterling Metals Receives TSXV Approval for the Option to Acquire 100% of the Adeline Copper Silver Project
https://sterlingmetals.ca/march-22-2023/