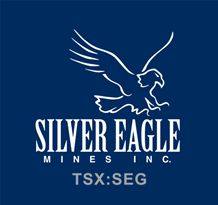 Silver Eagle Mines Inc.
COMPANY DATA | INTRODUCTION | PROJECT IN HAND | MANAGEMENT
NEWS UPDATE | CHINESE
Address:
Suite 1010, 360 Bay Street
Toronto, Ontario
Canada M5H 2V6
Tel No.:
(416) 361-1101
Fax No.:
(416) 361-9280
Web Site:
www.silvereaglemines.com
Corporate Email:
info@silvereaglemines.com
Contact Person:
Terrence Byberg
Position:
President & CEO
| | |
| --- | --- |
| Traded Market: | TSX  |
| Traded Symbol: | SEG  |
| Outstanding Shares: | 55.5 Million |
| 52 Week High: | $ 1.37 |
| 52 Week Low: | $ 0.55 |
| Present Price: | Click Here  |
INTRODUCTION

Silver Eagle Mines Inc. is a TSX listed, Canadian-based silver exploration and development company focused on acquiring, exploring and developing high grade silver deposits among the rich silver mines of the Mexican mineral belt.

The Company's primary asset is its wholly-owned Mexican subsidiary, San Pedro Resources, S.A. de C.V. which controls the fully-permitted Miguel Auza Mine and adjacent properties in the state of Zacatecas, Mexico. The property includes the mineral rights to 41,498 hectares, hosts past-producing mines and has the necessary infrastructure and a trained mining work force nearby. The Miguel Auza Mine generated its first revenue in the second quarter of 2007 as a result of the Company's bulk sampling program.

PROJECT IN HAND

(1) Miguel Auza Project, Northern Zacatecas State, Central Mexico

The Company's wholly-owned Miguel Auza property is located in the vicinity of the town of Miguel Auza in northern

Zacatecas State, central Mexico. It includes the mineral rights to 41,498 hectares (102,534 acres) of land, has several high potential exploration areas identified and targeted for evaluation. Contained within a 2 sq.km portion of the Miguel Auza property are several known silver bearing veins, which have been mined discontinuously since the Conquistadors initially worked the area in the mid 1500s. The deepest historic workings are at 140 metres and all veins remain open on strike and to depth. The Calvario and Northern Vein systems are the primary vein systems and ongoing drilling on these veins has returned many silver assays in excess of 1,000 g/t. The East Vein system, as well, is returning high precious metal values and is believed to be an eastern extension of the high grade Northern Vein, while the Mill Area Vein system appears to be characterized by higher lead and zinc grades, with lower precious metal grades.

Project Overview:
Located in Zacatecas, the richest mining state in Mexico

Property first mined by the Conquistadors

SEG has 100% ownership of 41,498 ha of mineral rights

Harmonious and cooperative relations with the local communities

All operating and exploration permits in place

Increased resource announced May 7, 2008

50,000 metres of diamond drilling completed to date

Aggressive exploration plan for 2008 - three company-owned diamond drills

200 locals employed at Miguel Auza Mine

Currently over 4,000 metres of underground development have been completed, and test mining in progress

Mill processing plant operating at 150 tpd

Mill expansion underway

Pre-feasibility study results announced June 25, 2008.
Miguel Auza Property Resource

Tonnes

Grade

Contained Metal

Au

Ag

Pb

Zn

Ag Eq

Ag Eq

(t x 1,000)

(g/t)

(g/t)

(%)

(%)

(g/t)

(oz x 1,000)

Total Indicated

2,059

0.19

159

2.41

2.51

353

24,254

Total Inferred

975

0.22

215

1.41

2.14

373

11,692
Exploration Potential Near Miguel Auza

Loma Las Minas: Located 4 km northwest. Numerous pits and trenches over an area of approximately 2 sq.km expose quartz veins with silver and lead mineralization. No modern exploration has been conducted here.



Mesa El Cobre: Copper and silver is associated with several epithermal quartz veins located 3-4 km northeast of the mine. The veins are up to 1 km in length and locally to 10 m in width. An ancient shaft of unknown depth and numerous trenches and open stopes evidence previous exploration work in this area.

Cerro San Bartolo: Located 12 km east of the mine, quarries and pits on former tin prospects extent over an area of 4 sq.km. Cassiterite is the principal mineral of interest, occurring in fracture zones in a granitic stock.

El Pantano: 20 sq.km in extent, located 5 km south of the mine. An aeromagnetic anomaly is associated with this area and suggests the possibility of blind skarn-type mineralization at shallow depth.

(2) Shining Tree Project, Ontario, Canada


The Shining Tree project consists of 5 patented gold claims on the Tyrell Township property near Shining Tree, Ontario. This project encompasses approximately 120 hectares in size.

Past exploration was performed by Placer Dome during the 1970's and 80's until workforce reduction occurred in 1990.

This project requires digitizing and analysis prior to planning the next phase of exploration.

(3) Silver Centre Project, Ontario, Canada

The Silver Centre project is located in South Lorrain Township (just south of Cobalt), Ontario, this patented claim is

approximately 20 hectares in size.

In 1918, this property produced 7,989 oz of silver. It is adjacent to the Currey Mine which produced 49,883 ounces between 1916 - 1938.

Silver Centre is also adjacent to and on the same fault as the Wettlaufer Mine which produced 2.6 million ounces of silver and 24,000 lbs of cobalt between 1908 and 1918.

MANAGEMENT

Silver Eagle Mines Inc. has a professional management team with experience in different areas.

Management and Directors

Terrence H. Byberg, President, Chief Executive Officer and Director
Mr. Byberg is one of the original founders with 35 years of international mine operating experience.

Dr. Christopher Hodgson, P.Eng., Vice President of Exploration and Qualified Person
Dr. Hodgson has 35-plus years in international exploration; he has extensive epithermal experience in Latin America.

Adolfo F. Vera, P.Eng., Executive Vice President and Chief Financial Officer
Mr. Vera has 20 years of international banking and finance experience. He recently held the position of CFO at Volcan Compania Minera SSA in Peru.

John W.W. Hick, LL.B., Chairman of the Board
Mr. Hick has over 25 years of executive mining experience; he recently held the position of CEO at Rio Narcea Gold Mines Ltd.

Javier Aguirre Sanchez, Director
Mr. Sanchez has 35 years of business experience in Mexico.

Kenneth G. Byberg, P.Eng., Director
Mr. Byberg is one of the original founders and has 30-plus years of mine operating experience.

Dr. Peter N. Calder, P.Eng., Director
Dr. Calder is Emeritus Professor in the Department of Mining Engineering at Queen's University in Kingston, Ontario.

A. Scott Davidson, C.A., C.B.V., Director
Mr. Davidson is a Partner of Cole & Partners, a business valuation and corporate financial advisory services firm based in Toronto, Canada.

Daniel Tellechea, C.P.A., Director
Mr. Tellechea has 30-plus years of international mining experience. He is a past CEO of Grupo Mexico and past CFO of ASARCO; he is currently CEO of Dia Bras Exploration Inc.

John C. McConnell, Director
Mr. McConnell has more than 20 years of mine operating experience. He was recently the President and CEO of Western Keltic Mines Inc.

NEWS UPDATE
On September 4, 2008, Silver Eagle Mines Inc. announced that it has started commissioning the expanded processing plant at its Miguel Auza property in Zacatecas, Mexico. When commissioning is completed, the plant is designed to process up to approximately 600 tonnes per day, and produce sellable concentrates containing silver, lead and zinc.
On July 22, 2008, Silver Eagle Mines Inc. reported on recent results from its ongoing diamond-drilling program on the North, Calvario and Mill Zones at its wholly-owned Miguel Auza property in Zacatecas, Mexico. Of note are diamond drill holes 2008-189 and 2008-194 in the North Zone, which intersected veins at 0.4 and 0.5 m in width, assaying 2,463 g/t Ag and 3,291 g/t Ag respectively, and 2008-196, the deepest hole drilled to date, which intersected the Calvario D vein at 525 m depth.

On June 25, 2008, Silver Eagle Mines Inc. reported on the results of a pre-feasibility study prepared by Silver Eagle and reviewed by Scott Wilson Roscoe Postle Associates Inc., for Silver Eagle's wholly-owned Miguel Auza Mine in Zacatecas, Mexico. The study includes geological, mining, metallurgical, mineral process and economic analyses of the Calvario and Milagro Veins at the Miguel Auza Mine, which has been the focus of underground test mining during the past year.

The pre-feasibility results establish probable reserves of approximately 1.95 million tonnes grading 0.17g/t Au, 137 g/t Ag, 2.15% Pb and 2.25% Zn, sufficient to support a mine life of approximately 7.5 years at a projected milling rate of 600 to 850 tonnes per day (tpd). In addition, there is an inferred resource of 0.86 million tonnes grading 0.23 g/t Au, 242 g/t Ag, 1.55% Pb and 2.42% Zn.

The production rate of the mine is currently projected to increase from the present rate of 150 tpd, to 550 tpd by the fourth quarter of 2008 and to 850 tpd by the end of 2009.

On May 7, 2008, Silver Eagle Mines Inc. reported an increase in Indicated and Inferred Resources at its wholly-owned Miguel Auza Property in Zacatecas, Mexico. Since the filing on SEDAR of its most recent technical report in respect of the Miguel Auza Project, dated January 18, 2008, an intensive diamond drill campaign has resulted in an increase in the Indicated Resource from 21.3 million oz. Ag Eq to 24.3 million oz Ag Eq while the Inferred Resource has increased from 8.9 million oz Ag Eq to 11.7 million oz Ag Eq.

Silver Eagle's President and CEO, Mr. Terrence Byberg, said "I am very pleased by the increase in resources, and especially by an increase of 8% in silver equivalent grade of indicated resources. The additional inferred resources of 2.8M oz Ag Eq are all located in the Calvario Vein at depth below the previously indicated resource and between Martinez #1 and Calvario shafts. We will now focus our diamond drills on the high grade North and East Zones."